Having a database of potential customers is important for leads to consistently come in. A poor record with duplicate numbers/company and incomplete information makes it difficult to create a targeted campaign.
A clean database has the following.
No duplicate records

Companies with complete information
Company name

Company address

Company number (if not direct line of the right target contact)

Complete name of the decision maker

Direct email address

Correct job title

Direct/Mobile number of the decision maker
Related: Eliminate Unwanted Business Data with Data Profiling Tools
According to a survey from Forbes.com, 57% of data analyst state that cleaning and organizing data is the least enjoyable part of their work.
Maintaining a clean database requires time and effort. You don't really need to do all the work to maintain a "clean data". That is why it is best to seek professional help who can do the job for you.
Reasons why you need to outsource your data cleansing activities.
It is cost effective

Free yourself from hiring an employee and invest in training and development. (You need to learn as well in order to know if he is capable to do the job)

They are a team of professional skilled employees with experience and expertise to deliver a high-quality result.

Your team can focus on more important tasks to help your business grow.

They have a credibility to protect – which is to provide a good service for their customers in order to keep up with their competitors.
Read more on 5 Things Australian Companies Should Consider When Buying a Marketing Database
A business who specializes in data cleaning and organizing understands the importance of a clean database. They know how hard it is to keep a database clean which makes them target accuracy.
They clean up your record by:
Online research

Data profiling campaign
How do they do it?
The 5 steps in keeping your data clean
Step #1:
Analyze the information in your records. Find out all the duplicate records and companies with incomplete information.
Related: 13 Reasons Why You Should use Data Profiling and Get Accurate IT Contacts
Step #2:
Separate the bad records. Remove the bad records and save it separately.
Step #3:
Online research. You can use google (whatever search engine you wish to use) for this one. Search for the website of the company and look for the missing information in the pipeline.
What information can you get from the website?
Exact company name

Company address

Company number

Complete name of the upper management – CEO, President, Directors and Managers.

Email address (sometimes they have it in their profile)
Related:
Step #4:
Set up a data profiling campaign. Complete the missing information after online research by calling them and verifying if you have the right information in your records and replace the wrong data with the correct ones.
Related: Customer Profiling: Should you Verify Business Contacts Through Calls?
Step #5:
Establish a regular schedule for data cleansing. People or companies transfer from one company or location to another so it is advisable to refresh your data at least once a month.
Benefits of having a clean database.
Your targeting the right audience

You won't waste your time calling for the same company over and over again.

Increase productivity

Higher contact ratio

Lowers your email bounce rate
So, how clean is your database?
Learn more marketing tips and tricks on Australia B2B Marketing Blog
Need help in lead generation campaign! Dial +61 2.9037.2248
Grab a copy of our FREE EBOOK, Why You Should Bet Your Money on Digital Marketing (And Win)! We brainstormed ideas, analyzed data, and interpreted recent developments vis-à-vis previous trends before coming up with a realistic view of this year's marketing trends.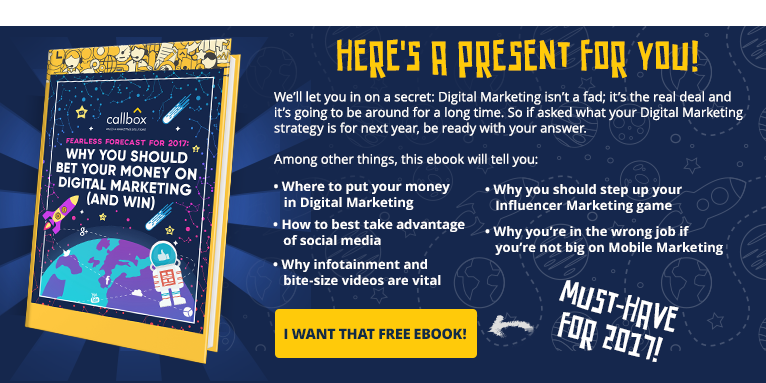 Related:
Don't Get your Company drown with Unqualified Australian Leads
10 Warning Signs from Decision Makers that You won't Close the Deal