Choose your cut of meat, marinade then grill, broil or pan-sear is the generic process to cook a steak. However, such may not guarantee a perfectly-cooked steak, rather may be dependent on one's preference on how the meat should be done: rare, medium rare, medium, medium well or well done.
Setting a phone appointment through the phone with an Aussie prospect may partly differ from the Malaysian, Singaporean or American Prospect. So the best way to do this is to get to know each of them better before calling.
Take a look at some important things you have to note according to TodayTranslations. This could be a helpful reference for telemarketers on how to set appointments through a phone with Australian prospects. Let's follow a basic call flow.
Greetings
Use casual or traditional greetings like "hi" or "hello", not necessarily pushing it the Aussie way as "G'day, mate". Like Americans, address them by their first names, however, if you address them by the last name especially when speaking with senior or many mature prospects, affix a Ms. or Mr. before the last name to show respect while sounding casual.
Related: Earn Appointments with These Cold Calling Scripts for All Industries
Rapport
Generally speaking, small talks can help you build rapport and make you feel at ease on the call but this may not be necessary at all times with Aussie prospects. They are mostly straightforward so you have to be quick to gauge if there's a room for rapport building or should you proceed to the reason of the call. They might just be too busy to talk about the weather.
Related: Sales Tips: Interesting Facts About How to Gain Prospect's Trust
Active Q&A
Listen, and actively listen to your prospects' answers and queries. Aussies would not quite like it when you get them to repeat what they've said over and over again. Who would like that anyway? Grab the chance to gain his trust by exerting effort on showing how interested you are in helping him better his business by actively listening and acknowledging his concerns.
Related: How Marketing Automation Increased My Client's Appointments in 30 Days
Adding Value
I bet you've done your assignments before you called today but plainly speaking what products and services you are offering are underrated. Add value to your product knowledge by citing benefits, thus giving your prospect the reason why he should spare your specialist a segment or hour of his working schedule in a coming couple of days. Do this with confidence.
Related: IT and Software: Mastering Product Knowledge Before your First Sales Pitch
Cease The Call
Propose an exact date and time for the appointment and gain your prospect's approval unless he has other preferred schedules. Quickly summarize what transpired during the call and never forget to thank him for his precious time.
Related: How Do You Know You Need A New Appointment Setting Campaign?
Aussies are generally straightforward but receptive to new ideas. Establishing a  long-term rapport isn't necessary in order to engage them in business. Seeing your products and services beneficial to business improvement is enough reason for them to move forward.
So before you grill, broil or pan-sear the steak, know your customer's doneness preference first in order to serve him well.
Learn more marketing tips and tricks on Australia B2B Marketing Blog
Need help in lead generation campaign! Dial +61 2.9037.2248
Grab a copy of our FREE EBOOK, The Ultimate Lead Generation Kit Ebook! Updated with links to the best and latest techniques that will help generate quality sales leads for your business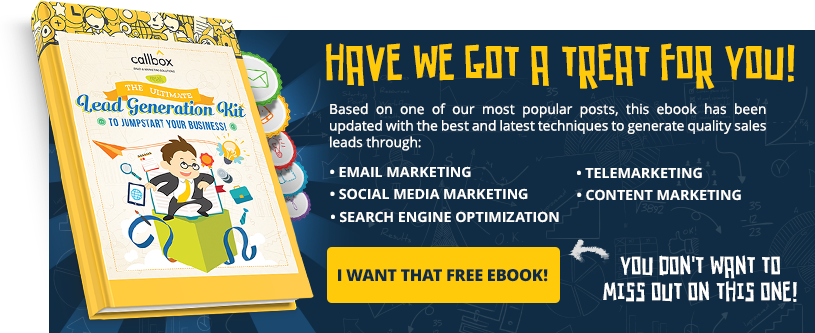 Related:
Don't Get your Company drown with Unqualified Australian Leads
10 Warning Signs from Decision Makers that You won't Close the Deal
What Appointment Setting Strategy Will Work For Australia?