First things first: What is influencer marketing? For Tap Influence, it is basically a process that companies use to generate interest in the products and services they sell. Central to this outreach approach is the use of personalities that already have enough clout to inspire others into taking action. For sure, influencers enjoy mass appeal, and they can use this to set up discussions around an issue or to promote a certain advocacy.
B2B companies make use of influencers in very significant ways.  This is because influencers are so effective in attracting potential buyers. What's more, many B2B campaigns are focusing more on influencer marketing not as an enhancement to their current lead generation campaigns, but as a main driver of revenue. In fact, the Influencer Marketing Hub has pointed out that companies get a $6 ROI from every dollar spent on getting their operations a much-needed boost from notable personalities in the industry.
The popularity of influencer marketing in industries such as financial services and IT continues to rise. In fact, the Influencer Marketing Hub showed that at least 59% of marketers across various industries and locations are likely to spend more on influencer marketing. In Australia, the method also enjoys a massive fan base among B2B enterprises seeking to outdo each other in their respective areas.
It is important to note that the Land Down Under offers numerous opportunities for just about any business to extend its reach. With a whopping 17 million active Facebook users, the country makes it possible to tap a large body of people that seek specific solutions. Of course, we are talking mostly about B2C here. But the dynamics have little difference with that of B2B, which also relies on content to seek out interested prospects.
Related: Growth Hacking Lead Generation Tips for Businesses in Australia
The challenge still stands for a lot of B2B companies, particularly start-ups, to realize the full advantages that influencer marketing can bring to the table. Obviously, it is only a matter of planning and application to create a campaign that provides the exposure you need to push you forward.
Australian companies should look at the following to make sure they're on the right track to getting the most out of their influencer marketing experiences.
Identify your influencers
Any well-meaning marketer will tell you that attaching your name to the right personality can give your brand a much-needed boost. You can always tap someone who has an impressive number of followers across various social media platforms. But it's not only the numbers that should be a factor for success. Reputation is also important. Having the wrong person to advocate your brand can ultimately backfire, especially if the influencer in question has been put under negative light. To be safe, go for names that are trusted and clean.
Related: Outback Attack! Introducing Australia's Top Ten B2B Influencers
Focus on content
We have to agree that content continues to be the main driving force that allows companies to get noticed. With that said, it is easy to point out that content serves as the main channel for influencers to do their magic. It's only a matter of choosing the best conduits to use for your outreach. You can start by having influencers write guest posts on your landing sites. For this, you will need to make sure you include relevant keywords and place the names of influencers carefully throughout a blog post. You might also want to produce YouTube videos featuring major thought leaders. For a start, you can create a series of tutorial videos or interviews. That will surely get the ball rolling!
Related: Dummies Guide for Content Marketing
Get viral
Your message needs to have viral dimensions in order to tap the right audiences. With that said, allow your creative team to cook up something that's attractive and has a lot of firepower. In other words, any piece of content featuring influencers must have a resonating theme or pieces of crucial knowledge worth sharing. Being able to do so will definitely improve your social media following as well as your revenue.
Related: Want To Go Viral? Try These Lead Generation Tips
Supplement your campaign
You can always improve your influencer marketing campaign even further by initiating support advocacies on the side. You can complement your campaign by following up with an email blast on prospects that have been drawn by your influencers. You might as well promote content that features influencers.
Related: Using B2B Demand Generation as a Driver for Sales Goals and Boost Competitiveness
Sources:
https://www.tapinfluence.com/blog-what-is-influencer-marketing/
https://influencermarketinghub.com/influencer-marketing-statistics-quotes-facts/
Learn more marketing tips and tricks on Australia B2B Marketing Blog
Need help in lead generation campaign! Dial +61 2.9037.2248
Grab a copy of our FREE EBOOK, The Ultimate Lead Generation Kit Ebook! Updated with links to the best and latest techniques that will help generate quality sales leads for your business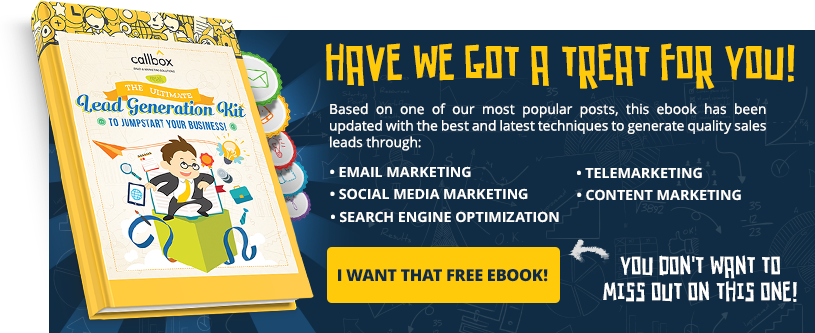 Related:
25 Business Quotes That Will Push you Through Limits
3 Australia B2B Marketing Trends That Got Me Thinking